Coaching Firm 'Business Success SW' Makes Small Business Saturday's Top 100
Fri, 07 Dec 2018 by Liz Rosling
Small Business Saturday 2018 in its sixth year
Spending up 8% from £748 million in 2017 to £812 million in 2018
59% of shoppers said they were aware of the day and spent more than usual
Tweets sent on the day reached more than 100 million and hashtags #SmallBizSatUK & #SmallBusinessSaturday were trending Top 5
Each year, Small Business Saturday shortlists 100 small businesses and highlights their success, choosing one business a day in the 100 days leading up to Small Business Saturday 2018.
On day 53 (October 15th) Plymouth based coaching firm Business Success SW was featured.
Recognised for their coaching programmes that have helped hundreds of entrepreneurs achieve measurable results in their business, Business Success SW offers one to one training, business and marketing coaching to help business owners accomplish the results they first went into business for. Partnered with Action Coach and Luv4 Marketing, Business Success SW also works alongside the Government to provide Digital Marketing apprenticeships.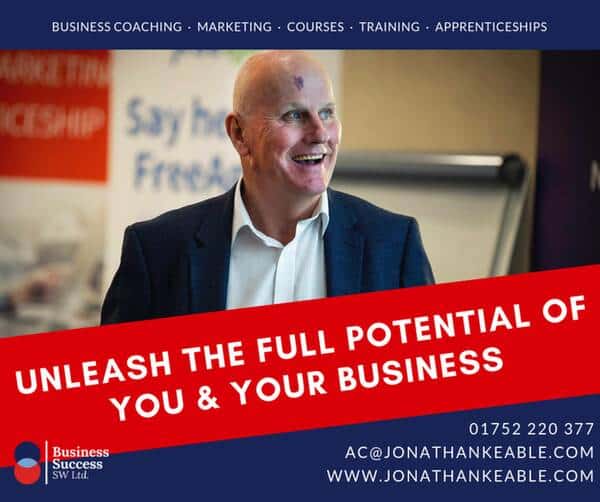 As a licensed Business Coach and Consultant, Managing Director Jonathan Keable's 30 years of business management experience helps people drive their business development and improve areas that might have been overlooked. Business owners can contact Jonathan for a free and confidential 90-minute phone consultation where he will review the business in question and share his thoughts on strategies that can be immediately implemented.
Business Success SW also offers 3 coaching programmes aimed for small business owners, independent operators, start up business owners and self-employed professionals.
By enrolling, business owners have the opportunity to gain valuable and tailored advice that will help their businesses see significant growth in just one year.
We interviewed business owner Jonathan Keable to find out more about his career, company and experience with Small Business Saturday:
1. What skills were required to turn around 6 under-performing businesses, growing a company from 4 to 75 staff?
My particular skill is to bring together the experience I have, and the knowledge I've accrued, to develop a watertight Business Plan and Marketing Strategy that will deliver exciting and sustainable profits. Similarly, to the approach I use within my Coaching now, I focused on the key backbones of the business when turning profits around: Sales, Marketing and Advertising, Team Building, Systems and Business Development and Customer Service. It took a lot of hard work, but it was a very rewarding experience, from which I learned a lot.
2. How many people are in your business and what are your company values?
There are 2 of us; myself and Adrienna, who is the in-house Marketing Specialist. Although there are just 2 of us in the Business Success SW office, we are proud to be partnered with ActionCoach and Luv4Marketing, both leading players in their industries. This enables us to provide our clients with the best possible advice, guidance, resources and tools. Our core values are honesty, communication and integrity. This is reflected in our authentic, bespoke approach to Business and Marketing Coaching. We also place great importance on having fun!
3. How did you feel about being listed on Small Business Saturday's Top 100 and can you tell me a bit more about your experience with Small Business Saturday? Would you recommend applying to other companies?
To be a part of the final 100 (out of 1000s!) was very exciting. Having only been established for just over a year, we were very proud of ourselves and it allowed us to reflect on just how far we'd come. We were also incredibly honoured to be alongside 99 other great companies! We'd recommend applying to all Small Businesses; Small Business Saturday truly brings the local community together and reinforces just how important our local culture, independent businesses and economy are.
4. How do you think business success differs for small businesses compared to larger ones? Why do you think small business success is so important?
Our aim is to support, grow and enable local Businesses through education. We want to give Business Owners and their team the lifelong skills that they can keep forever. Business Success means different things to different people, and the differences between Large and Small corporations are stark. However, 'shopping locally' and, in turn, keeping the money in the local economy, has a direct impact on the independent Business Owners; every little really does help. We want to see Businesses of all sizes reaching their full potential!
5. What would your advice to small businesses be for 2019?
Don't underestimate the power of Digital Marketing!! Embrace change and keep learning. Take care of your team and they'll do the same for your Business. Seek support – all top Athletes have coaches, and so do all top Business Owners!
Contact Business Success SW to find out more or book your free consultation.