How to write a business plan for startup entrepreneurs
Mon, 07 Sep 2020 by James Green
Summary
A business plan is a necessity for all new startups. It helps prepare entrepreneurs to run their own businesses and also establishes how their new startup will work.
We've compiled a useful guide on how to make a business plan. We've also answered some of the most common questions found on Google.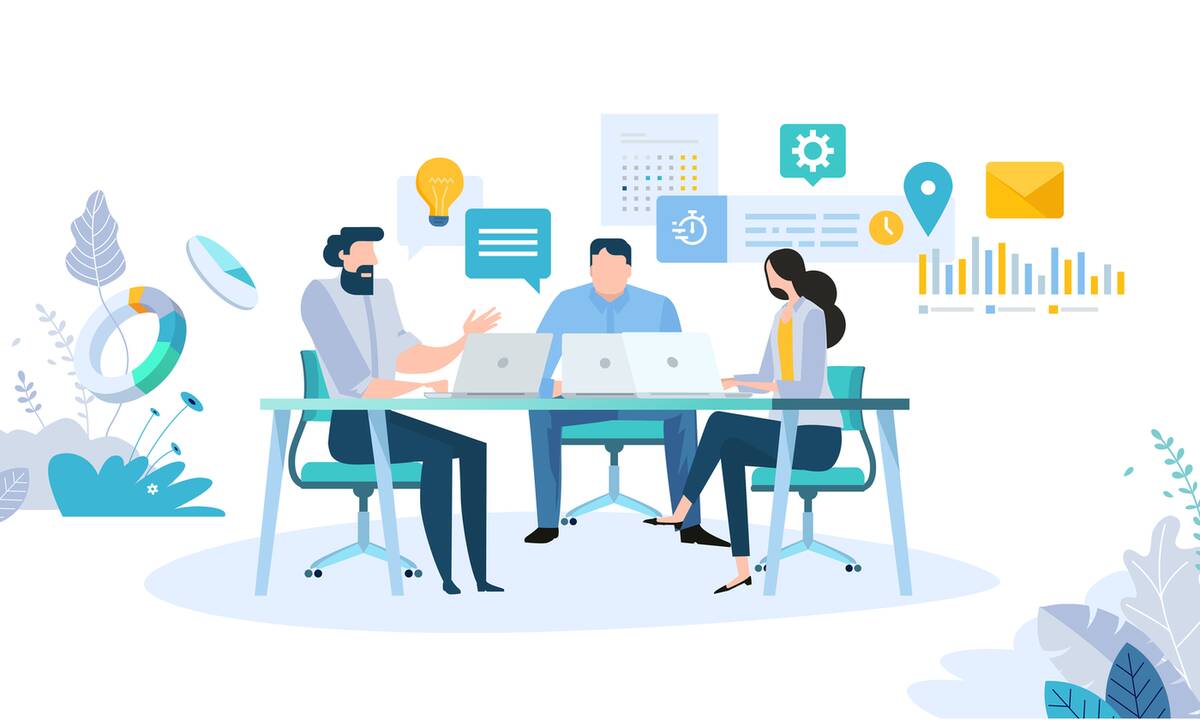 There have been over 190,000 redundancies as a result of COVID-19 according to the latest figures from the Guardian. It will likely make the job market become incredibly saturated with more people looking for jobs, but fewer opportunities available as businesses are more reluctant to hire.
To combat the lack of job availability, more people are developing a growing interest in starting their own businesses. Figures from SME Loans saw that 46% of applications were for startup loans, suggesting that many people are interested in starting their own companies.
Nonetheless, starting a small business can be challenging, especially during COVID. You may have an excellent idea for a business, but in order for an idea to develop, it needs to have a well thought out business plan.
In this article, we've highlighted the key elements that are required to write a business plan, and have answered some popular questions that are regularly asked on Google.
What is a business plan?
A business plan is a document which outlines how a business operates and its goals. It is vital for converting an idea into a fully functioning business. A good business plan is thorough and well researched; business plans include:
Business goals and strategies
Market research
Financial forecasts and costs
What is a business plan for?
A business plan is used to develop an idea into a business. It works as a a guide to demonstrate how a company will operate in the future and can help highlight any potential problems. More practically, business plans are used to acquire startup funding or investors.
The more researched and comprehensive a business plan is, the more likely a potential investor will be interested in investing. It should be noted that even a great business plan will not guarantee funding. Startup funding is notoriously difficult to acquire, especially in the current circumstances of COVID. Nonetheless, a good business plan is always better than no business plan.
Ultimately, a business plan is useful for the entrepreneur who will gain far greater clarity from a business plan than rushing straight into running a business.
How can I get a business plan?
A business plan is written by a person who is looking to start a business. It can be written from scratch, or you can use a business plan template which can help guide you through the process.
There are plenty of websites such as the Princes Trust that offer helpful business plans to help develop your business idea.
How long does it take to write a business plan?
A business plan isn't something that can be written quickly and shouldn't be rushed, despite what some websites suggest. A well-written business plan can take months, especially if you're conducting surveys for market research or writing a business plan for the first time.
Furthermore, you will likely be balancing writing a business plan with your everyday life. It is unlikely that you're going to be writing a plan 8 hours a day, whilst also holding down a full-time job.
How to write a business plan
Executive Summary
The start of a business plan should include a summary of what your startup is, its business aims and a description of your financial forecasts.
The summary should include the basic information about your business, such as the name of the company and the product it sells. Whoever reads the summary should be able to walk away and understand precisely what the business does, how it functions, and what it sells.
Elevator Pitch
The elevator pitch is the concise two-minute pitch that sells your business to potential customers and can be used to help convince potential investors to help finance your startup. You want to make sure that you hit the basics, what your business does, who is it for, and what makes it stand out from the competition.
Market Research
Good market research can help you recognise whether your business model is viable. You may have a good product idea, but without market research, you won't be able to determine whether you can sell it or not.
From your market research, you should be able to identify your potential customer base, who they are, where they're located, and why they want to buy your product.
Once you have completed market research, you can move onto developing a marketing strategy. The strategy will inform on how you market your product or service to potential customers. There are many ways to contact and market to customers such as word of mouth, building a website, advertising or implementing digital marketing campaigns.
Market Research Techniques
Desk research – Desk research involves collating information from the internet and books. It consists of researching sources of information that have already been created to learn more about the market you are looking to enter. You should find basic facts, such as whether there are fluctuations in the market or how large the market is.
Field research – Field research is first-hand research that is conducted by the entrepreneur to get an up to date understanding of what potential customers want and can help identify your target market. Usually, field research is undertaken via surveys, focus groups, or testing a prototype of your product.
Field research is essential as it enables a person to get a better understanding of a product, allowing changes to be made to a product or service.
Competitor Research
Competitor research is essential in understanding the potential threats that competitors may offer and how they can be overcome. By comparing your business model to competitors, you can highlight your unique selling points, which may convince customers to use your business over theirs. Competitor research is usually conducted via SWOT analysis:
What is SWOT analysis?
SWOT stands for:
Strengths What makes your business stand out? What is better about your business model than the competitors? What is positive about your business idea?
Weaknesses Why will your business struggle in the first five years? What is better about a competitor's business than yours? How can you address these weaknesses? Can they be addressed over the short-term, or will it be in the long term?
Opportunities How can you take advantage? Are there opportunities that more experiences are missing or not fully taking advantage of? How can these opportunities specifically benefit your business?
Threats What are the external factors that could threaten your business? Is your business seasonal? Is the market at risk of collapsing? Are there any local threats that could impede your business?
Decide on your company structure
Sole trader or limited company?
When you decide to register your business, you will need to choose whether you want to register with HMRC as a sole trader, or with Companies House as a limited company.
A sole trader and limited company have distinct differences, so you must weigh up which business structure is right for your business aspirations. Below we have developed an infographic comparing the two business-types in 5 key categories: liability, ownership, tax, securing funding, and starting a business.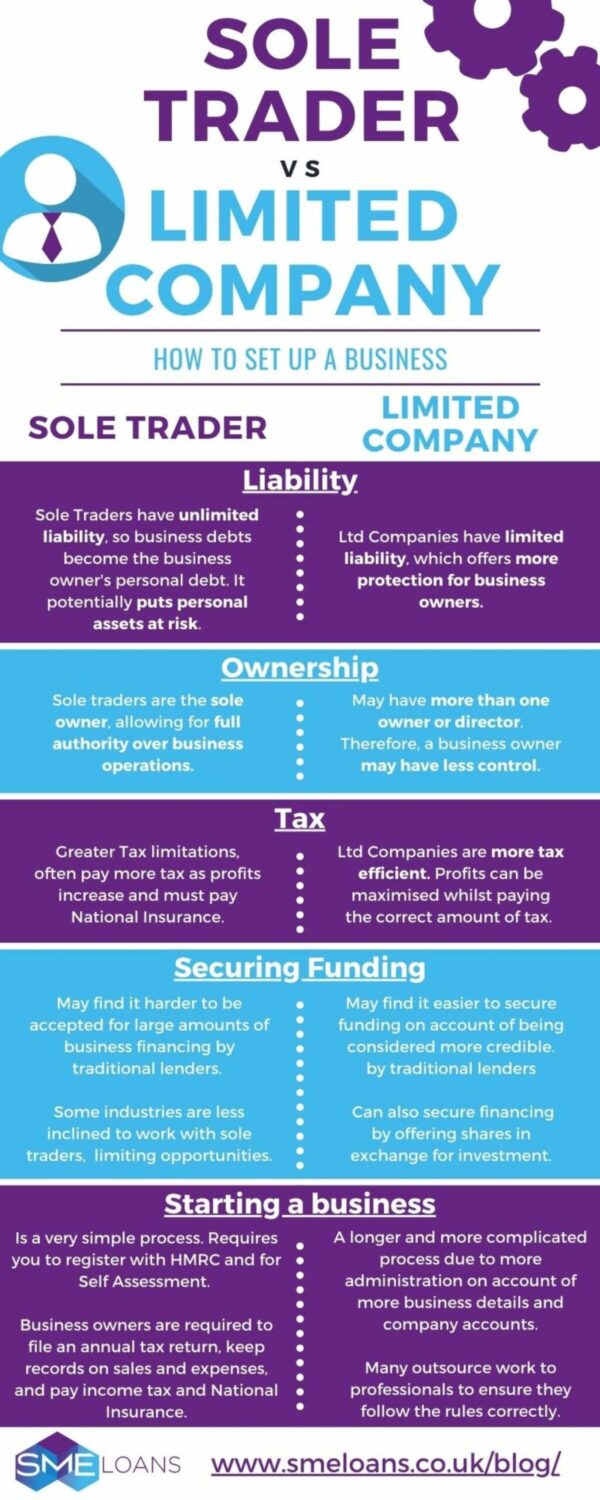 If you're still undecided about whether to register as a sole trader or limited company, check out our guide to learn more about which business structure is right for you.
Business Finances
Business finances are needed to see if your good idea is financially viable. If an investor is looking to help finance a startup, they're going to want to make sure that the business can make a profit in the future. This is the section where you need to calculate the costs and financial projections/forecasts for running your business.
When looking to predict the cost of running a business, you will need to include:
Cost forecast
Sales forecast
Cash flow forecast
Also, you'll need to include a personal budget that you can live off whilst your business is launching. Everyday life will be a struggle to live if you reinvest all the money into the cost and sales of running a business, but not leave enough money for you to pay household bills or other personal expenses.
It is recommended that you use a financial template or table to help organise all of your expenses to make it easier to understand for yourself and other people who are interested in the business.
Costs of running the business
When working out the costs of the business, you need to make sure you're scrupulous, and you have accounted for all costs. Calculating the price of a product and running a business determines how much money you can sell the product for.
Notably, the cost of the product should always be lower than the sales price for the business to make a profit.
When calculating cost projections, you need to include:
The amount of money required to create the product/service.
The logistics, such as how much it will cost to deliver a product.
How much of it needs to be reinvested into the business to pay for rent, bills, credit, etc.
Personal budget: how much of the profit that you can take home.
More specifically, this includes:
Assets: list all the assets that will need to be purchased to ensure a business can operate. Assets are usually specific to the company type, so can vary from computers to vehicles or machinery.
Fixed costs: Fixed costs do not fluctuate in price and are usually recurring payments paid monthly or annually. Commonly, these include rent, loan repayments, licenses or subscriptions.
Variable costs: Variable costs are determined by the number of services or products that the business produces. If the production volume increases for a product, so does the variable cost. If the production volume decreases, the variable costs decrease.
Startup Costs: Startup costs include how much it will cost to start a new company. This can include registration fees for a limited company. For more information on startup costs, check out our blog post about how to set up a business.
Sales forecast
Once you determine the costs of running a business, you should now have an idea of how much you're looking to sell a product for. The sales forecast is determined by how many sales that you aim your business to have within the first year of business, broken down weekly and monthly. In turn, you will be able to calculate how much money you will be able to generate.
Predicting the sales projections of a business will never be 100% accurate. Many external factors can influence how many sales a business may make. Therefore, it is best to factor in the worst-case scenarios to allow for a contingency plan should there be unexpected problems in the first year of trading.
Cash flow forecasts
Cash flow is how much money is coming into your business and how much is going out. It is required for a company to operate day-to-day. A cash flow forecast is used to track and predict your net cash flow and can be compared with your cash flow statement to understand how well your business is doing.
It is recommended that you are realistic when developing your cash flow forecast. Being realistic includes not overestimating how much stock you need and try to plan for external factors that may impact your cash flow. A cash flow projection will help you identify any potential shortfalls in the future, which will give you enough time to prepare.
Can I get help writing a business plan?
Business plans can be challenging to write and take lots of time, so it's understandable if you need some assistance or guidance when writing a business plan. There is no need to worry, as there are many ways to get help in writing a business plan. Below we've provided some suggestions that may help you to develop your business plan.
If you need direct help with writing a business plan, SME Loans works with professional business plan writers from Business Plans Direct to help entrepreneurs to develop their own business plan. To receive help writing your business plan, you can click on the button below which will take you to our portal.
You simply need to fill out the form with the relevant information and a business plan writer will soon be in touch to discuss your interest.
Hire a business plan writer
If you're looking to start a business but can't find the time to write a business plan, consider outsourcing the work. Hiring a business plan writer can also help if you're struggling and have a few issues completing a business plan.
By hiring a freelancer to write a business plan for you, it can help save yourself time, and you end up with a complete business plan. If you're considering hiring a freelancer you may want to consider the following sites can provide assistance:
Business Plans Direct
Business Plans Direct provides entrepreneurs who are looking to start a business with the expert insight they need to help them write a startup business plan. Their experience covers an expanse of sectors which allows them to help any business.
Business Plans Direct can help with business plans for loans, investor funding, visas and for general purposes. They are able to help provide a comprehensive experience, informed from years of experience.
Fiverr
Fiverr is a website which allows people to hire experienced freelancers who provide services to help people with their business. In addition to being able to hire a business plan writer, you can also hire graphic designers, marketing experts, website builders and much more.
Fiverr is a useful service for helping new and experienced businesses find the right freelancer to help their business grow.
Family and Friends
An excellent place to start if you're unsure how to write up a business plan is by talking to family or friends. If you have a family member or friend who has the experience of running their own business, speaking to them could be instrumental. You could ask how they put together their business plan or ask if they wouldn't mind having a look at yours.
Utilising the experience of people you know can help make improvements to your plan or guidance into how to run a business on your own.
Seek Government advice
The Government has several useful resources to help businesses develop a business plan at gov.uk. It includes links to templates, guides, and actual examples to help new entrepreneurs better understand what is required for a business plan.
Gov.uk is also a good starting point if you're considering creating your own startup business. The resources that are quoted can help push you in the right direction for the essentials needed for a business plan.
Online Courses
If you're looking for a more comprehensive insight into writing a business plan, then you can pay for an online course. These courses are usually taught by people with experience in the industry or the specific niche you're looking to enter.
As well as learning how to write a business plan, you also gain a skill. Many of these courses are found online, and prices vary, but be sure to research the course before you sign up to ensure its quality.
Final Word
Writing a business plan can be a lengthy process, but an incredibly rewarding one if completed correctly. It can decide whether your business is successful, depending on how good the plan is.
However, a plan does not guarantee the future. External factors can sometimes be unpredictable, the coronavirus being an obvious example of that. Nonetheless, a business plan is a necessity and is undoubtedly better than no plan at all.
Frequently Asked Questions
The core elements you need for a business plan include –
Executive summary
Market Research
Competitor Research
Your intended company Structure (Sole Trader or Ltd Company)
Business finances
Costs of running the business
Sales and cash flow forecast
Our guide explores each element in greater detail.
If you're looking for funding for your startup, then yes, you need a business plan. Startup funding is notoriously difficult to be accepted for, so it's highly unlikely a traditional lender will loan your business money without a business plan.
Developing a business plan is certainly recommended, even if you don't need to apply for business financing. It allows you to prepare and can determine whether your business idea will work.
If you are struggling with writing a business plan you can hire a professional consultant to help you. This will cost money which may make it expensive depending on who you hire. There are some freelancers who can write a business plan for you at a reasonable price. To find out more when you can hire a business plan writer, check out our article.