Meet Positive About Business' Founder:
Consultancy For Small UK Businesses
Wed, 03 Apr 2019 by Liz Rosling
Louise Percy founded Positive About Business in 2012. Positive About Business is a practical and down-to-earth consultancy for small UK businesses which specialises in:
• Accreditations (such as ISO)
• Completing Tenders & PQQs
• Health & Safety
• Management Expertise
A Technical Member of IOSH and Associate Member of IEMA, Louise has all the required expertise and knowledge to help business owners on their journey to compliance, accreditation and excellence. As part of our #WomenInSMEs campaign, we chatted to Louise about her experience as a female small business owner.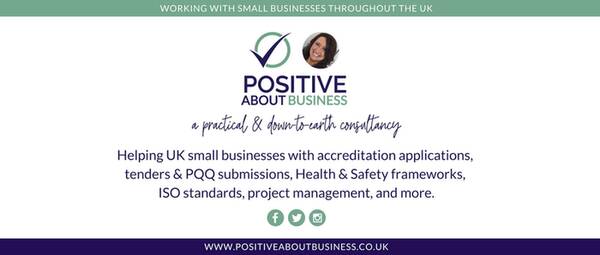 1. Hi Louise, thank you so much for getting involved in our campaign! Can you start by telling us why you started did you start your business, can you tell us about the journey?
I left my previous career in 2012 after a period of illness – stress related – which was as a result of difficult circumstances. I was extremely ill and was it confirmed I was suffering from anxiety and depression. I had been such a confident person previously and I could not believe that I had let myself be so badly affected. I just could not stop crying. There were times when I did not leave my bedroom for weeks. My confidence was completely knocked.
One day I rediscovered the fire in my belly and I was determined to get my life back on track, have a purpose to get up every day and have an even better life that I had in my previous career. I wanted to get back the old confident me back. I was sick of reliving the circumstances about how I was made to feel and knew the only person that could change how I was feeling and what I could become was me. The old strength and self-determination slowly but surely crept back. I wanted to start my own business.
With my previous varied work experience I knew that I could help other businesses. My career, albeit in the one sector, had seen me involved in strategic, operational and project management. I was involved in preparing for accreditations e.g. Investors in People Gold, making sure the appropriate evidence was in place, procurement of contracts, audits, devising policies and procedures, health and safety, customer services, managing staff etc – lots of tools in my toolkit.
Choosing the business name was easy. I try to practice positivity in my life and therefore Positive About Business was created. I have now been in business for over 6 years.
2. What an amazing achievement. What would you say have been your greatest successes and challenges to date?
For me success has been repeat clients and others who retain my services on a weekly or monthly basis. This gives me reassurance that I am providing a good quality and reliable service. The great feedback I receive from clients is success in itself. Most of my clients are small construction companies were the business owners have no time to do the necessary work that I do for them. I help them to start the journey to excellence saving them time, easing the pressure and allowing them to concentrate on the work and bring in new business.
The biggest challenge I see, from my own perspective, is that I am at the tipping point in the business in that it has so much potential to grow – a Positive About Business in every city, helping small business owners on the journey to excellence. What is holding the business back is investment. I see this come across from other business owners whether that be in Facebook business groups or chatting at networking events.
3. What would be your biggest piece of advice to female entrepreneurs just starting out in business?
A few pieces of advice. Believe in yourself. Get a mentor or an accountability partner, this could just be a friend who you can check in with. Get the right work, life balance. Set goals. Dream big.
4. Great advice, thanks Louise. Lastly, why were you drawn to the campaign, can you offer a comment on why you think it's important?
Even though I have been in business for over 6 years now, I still draw on the experience of other women business owners whom I have met over the years. Just to get together for a chat has been so useful. Sometimes as a solo entrepreneur it can be quite lonely and it is good to get together and share any ideas or even problems or even just to get that quick boost of confidence and reassurance that you are doing ok.
I also use the services of other female entrepreneurs to assist me with my business.
The campaign is highlighting the strength and determination of women in the UK business world. We can do this. We are doing it.
Connect With Positive About Business
• Twitter: @PaboutB
• Facebook: Positive About Business
• LinkedIn: Louise Percy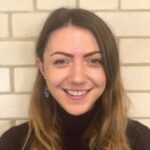 About Liz Rosling
Liz is a business finance specialist, responsible for publishing relevant industry insight for SME Loans. Also an author at StartUp Mindset, Liz uses her years of experience in the financial services sector, to equip small business owners with the guidance and expertise they need to realise their full potential. Stay up to date with Liz through LinkedIn and Twitter. You can drop her an email at liz.rosling@dojono.com.