Optometry Practice Loans – Apply for Business Financing
Finance For Opticians & The Optometry Industry
Access £1,000 – £500,000 in just 24 hours
Everything You Need To Know:
THE OPTOMETRY INDUSTRY
UK's Optical Sector
In the UK there are an estimated 2 million people living with sight loss, around 350,000  people are registered as partially sighted or blind and approximately 100,000 adults with learning disabilities that are partially sighted or blind. Scaling this, worldwide it has been estimated that around 285 million people are visually impaired, which is why the optometry industry is so integral to consumers' lives.
It is anticipated that by 2025, the global optometry market's revenue could stand at US $79.8 billion. Working within this industry are around 14,000 optometrists and over 6,000 dispensing opticians, making the UK optometric workforce the largest in the EU. The latest Optical Goods Retailing Report by Mintel details a 2.2% growth in the optical goods and services industry in 2017, valuing consumer spend at £3.1billion.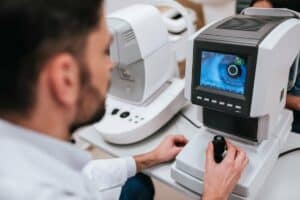 With the optometry industry being essential to the visual needs of millions, it is a sector that is guaranteed to remain steady in its growth and overall financial success over the coming years. It is without a doubt a stable and pragmatic industry to invest in, and with the global optometry market predicted to be so large by 2025, now is a great time to push the expansion of your optical business, or to get it started. The future for the optometry sector looks promising and the potential for great success within the sector is exciting.
Independent optician practices need to work twice as hard to compete against larger optometrist chains such as Boots Opticians, Specsavers and Vision Express. Despite independent optometrists standing exceptionally well against other high street retailers, research from Cooper Vision reveals that in order for optometrists to maximise customer loyalty, they must improve in areas such as aftercare and levels of staff knowledge.
Cooper Vision have outlined three important areas of customer service that provide beneficial insight for optometrist businesses:
Knowing The Customer: Understanding how customers choose opticians, how they like being communicated to and the frequency of their visits.
Understanding Customer Service Drivers: Waiting times in the practice and waiting times for the product.
Customer Service and Loyalty Metrics: The level of trust, satisfaction and propensity to recommend the practice and services to others.
Unsurprisingly, people over the age of 55 make up the largest proportion of the customer base, with women making up a slightly higher percentage than men. It's worth bearing in mind that from their own internal market research they have discovered that the following 10 elements of customer service are ranked from most to least important according to their customers:
Expertise and knowledge of the optician or eye care practitioner
Eye test process experience
Communication of the optician
Expertise and knowledge of the practice's sales staff
Ease of booking an appointment
After sale care
Ease of ordering and buying
Range and style of frames available for purchase
Being greeted warmly on arrival
Practice layout, design and accessibility
LOANS FOR OPTICIANS
Finance Options
When running a business in the optometry profession there are large costs that need to be met, including the cost of insurance and highly expensive equipment. Many businesses are unable to afford such substantial costs on their own, and consequently require extra funding to provide them the financial support they need to maintain their company and move it forward.
Fortunately, there are now many alternative funding options available, to help businesses attain the finance they require. At SME Loans we fully support the optometry industry and are able to broker funding products to help your business requires to grow and succeed. Whether you require extra funds for the purchase of optician equipment, refurbishments to your business, the hiring of new staff or for a new marketing campaign, we are on hand to help.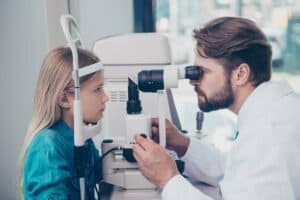 Merchant Cash Advances For Opticians
A merchant cash advance offers a great number of benefits to your business, allowing optician owners to access between £5,000 and £500,000 in as little as 24 hours. This product differs from a loan in that it functions as an advance on your business' monthly revenue through credit and debit card sales. Each month, repayments will be automatically deducted from a small percentage of these card transactions. Your business will retain any revenue generated through cash sales, and as another brilliant advantage of the merchant cash advance, there will be no interest rates to pay on the borrowed sum.
Qualifying is generally very easy and straightforward. A vast number of businesses will be eligible for a merchant cash advance. To find out whether you too are eligible, check that your business:
Is registered in the United Kingdom
Has been actively trading for a minimum of 6 months
Monthly card sales equate to a minimum of £5,000
Has a business owner over the age of 18 years.
Is a limited company and/ or a sole trader.
Practice Loans For Opticians
At SME Loans, we also offer unsecured business loans to optician owners. By opting for a business loan, owners can look to borrow between £1,000 to £500,000 to help maintain your company or fund new business ventures. As with the merchant cash advance, you should have the funding supplied to your account rapidly, allowing you to address any cash flow problems within your opticians practice immediately, or help you get started on your new venture without any delay. Once the funding has been received, it will then be paid back in monthly instalments, with interest rates included.
An "unsecured" business loan simply means that you will not be expected to secure the funding you receive against any of your valuable assets, such as equipment, property or land. This can prove a brilliant advantage for both new and small business owners. You may instead be asked to provide us with a personal guarantee to ensure that if repayments are defaulted on by your business, the owner will, in place, become responsible for meeting any of the still outstanding repayments.
Again, to ensure that your business is eligible for a business loan, check that your company:
Is registered in the United Kingdom
Has been actively trading for a minimum of 6 months
Has a turnover of at least £5,000 per month
Has a business owner over the age of 18 years
Is a limited company and/ or a sole trader
WE HELP E-COMMERCE BUSINESSES HIT THEIR GOALS
SME Loans Funding Solution
The upkeep of any business can certainly prove to be costly, with optometry businesses working as no exception. Equipment costs, staffing costs, and insurance costs are all fairly substantial, and there are of course many other costs to also be considered, such as utility bills, rent and general repairs. Starting up an optometry business from scratch is estimated to work out at a total of around £217,000 – £237,000.
This is a significant amount to meet alone, but practice loans for opticians are available to help you reach your goals and kick start your new venture. Applying for one of our funding products should be nice and simple, but if you run into any issues, or have any further questions to ask us, then please give us a quick call on 01244 506279,  and we will be able to offer you further advice and guidance.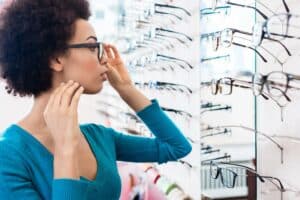 Apply For Finance For Opticians
Step One:
Head over to our application page. We will ask you for further details about your business, to ensure that we match you with the lender best suited to you and your company. We will need to know:
The name of your optician business
How many years you have been trading for
Your average monthly card sales
Step Two: We will then ask you to provide us with:
Your title, first name and surname
Your position within the business
Your email address and telephone number
Step Three:
After these details have been provided, click to accept the terms and conditions and then click 'get my quote'. Your application will then be processed and assessed by one of our approved business finance suppliers.
Step Four:
One of our account managers will soon be in touch with you by either phone or email to discuss the terms of your practice loans for opticians or cash advance agreement.
Step Five:
Once you have taken your time to carefully read through all of the terms of agreement, you should please sign the relevant documents and return them to the lender. You can then expect to see to the funding in your account within as little as 24 hours.
PRACTICE LOANS FOR OPTICIANS FAQS
Frequently Asked Questions
If you're still unsure about business loans for opticians practices, then make sure to check
out our FAQs below where we've answered some popular questions.
Loans for opticians practices are a type of business financing which is specifically used for businesses in the private optometry sector. These business loans can be used to help buy expensive optical equipment, fund training for new staff and grow.
You can apply for an unsecured business loan or a merchant cash advance for your optician practice by applying online and decide how much you want to borrow. You'll be required to provide some basic details about your business, such as the name of your company and how long you've been trading for.
In addition, you'll have to disclose some basic personal information such as your full name, as well as your email address and telephone number. If the application is successful, a broker will be in touch to discuss the next stages following your application and the options available to you.
Here at SME Loans we have extensive experience of finding the right business financing for a whole variety of companies in many different business sectors. We abide by a professional and quality experience, and work with regulated lenders who offer competitive rates on their business loans. Our application form is easy to complete and submit, and no fees when you apply with us.