How To Overcome Unhealthy Stress At Work
Exposure to moderate levels of stress can help the brain learn to cope with uncomfortable and difficult situations, increasing resilience in the long run. Prolonged and intense stress, however, can have damaging long-term mental and physical effects on health. For the purpose of this article, we will define stress as being when demands at work exceed an individual's ability to cope.
We are approaching another World Mental Health Day on October 10th , and it prompts an important reminder for all of us, that our health and wellbeing needs to take priority. Without it, the regular stresses of daily life start to become overwhelming – eroding all aspects of life, including work.
Recently the Bank of America surveyed over 1000 small business owners, of this over 41% stated that managing their business was their top cause of stress, triggering double the amount of pressure of maintaining healthy relationships and raising children.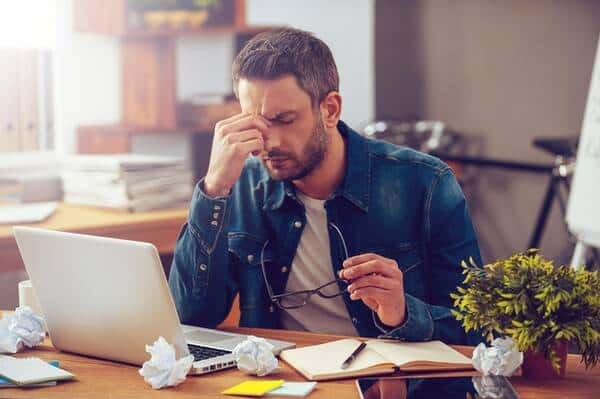 From paying bills to covering cash flow gaps, increasing revenue and keeping employees happy – the challenges facing small business owners aren't to be undermined. So how can this be managed? Read on to find out more about the causes of stress at work, and what business owners can do to help protect their staff and themselves.
Areas Of Stress For Small Business Owners
1. Paying Overheads
Running a business isn't cheap and paying off monthly bills and overheads can cause a huge amount of anxiety, particularly in times where cash flow dips. SMEs often struggle with this, as they grapple with late payments and chasing down invoices that are overdue to be paid.
2. Maintaining Positive Cash Flow
Particularly relevant to startups, all businesses must ensure they have enough cash to keep running each month after covering expenses. Not only is a consistent cash flow crucial for business, but also your own stress levels as an owner.
3. Expanding Business & Attracting Customers
As startups begin to scale up, the need for extra focus on gaining new customers is imperative. Finding time and money to invest in advertising and promotion is yet another factor that can bring a business stress, as it proves vital for successful growth.
4. Lack Of Funding For Growth
All of these points culminate in the biggest challenge for SME business owners, raising the required capital to help their businesses expand. Whether it's increasing stock, buying new equipment or employing more staff, short-term extra funding can go a long way to helping make things happen.
Keith Morgan, chief executive of the British Business Bank (set up to offer finance and funding for smaller UK businesses) states that 'in order for smaller businesses to maximise their impact on economic growth, it is vital that those with high growth potential are able to get the right type of funding at the right time'. The problem is that, despite improvement in the business funding market, the majority of smaller businesses still aren't able to access finance when they need it.
Finding a lender who can tailor a facility to suit your individual business needs can be hugely beneficial, which is why online credit brokers like SME Loans pride themselves on providing such solutions. As long as you have full understanding of your business's financial situation, and can plan and budget appropriately, then unlocking short-term finance can alleviate a whole load of business anxieties.
Prioritise Mental Health Without Sacrificing Business Performance
As a business owner, you will face a whole host of challenges on a daily basis that require careful planning and consideration to overcome. On top of this, there is the pressure to succeed in highly competitive industries whilst maintaining healthy relationships with friends and family. All of which can result in mental exhaustion if not kept in check.
If you feel this way it may help to know you aren't alone. A recent study conducted by the Intelligent Partnership found that 45% of SME founders feel 'under extreme pressure to deliver', with two thirds of these saying that 'simply knowing that others were going through the same experience, or being able to talk to them would have been most helpful during their darkest times'.
Helpful Blogs On Workplace Stress
Birds On The Blog
Sarah Arrow and Jackie Groundsell, founders of Birds On The Blog – a networking group for women in business – give us 20 important reasons why business owners need to stop focusing and worrying about business success. Their great advice proves vital to business success, reminding business entrepreneurs that *'when you are suffering from unhealthy levels of stress, it affects the way we function. We are more prone to forget things. Our minds are not as clear. Our judgment becomes clouded. Our emotional controls are way, way out the window. Our energy levels are depleted. Stressing is also a prime self-sabotage. We are far less likely to succeed if we are physically and mentally below par.*'
Entrepreneur Europe
On Entrepreneur Europe's site you will find a pool of articles relating to stress management. Of relevance and particular benefit is VIP contributor Deep Patel's article; 9 Ways High-Performing Entrepreneurs Handle Stress. From taking up a hobby to sweating it out in the gym, you will find out nine interesting ways to handle stress at work and keep burnout at bay.
Female Entrepreneur Association
Founded by Carrie Green, The Female Entrepreneur Association is an online hub with the mission of empowering women globally. Helping females turn their business ideas into a reality, a number of her blog posts focus on the difficulties facing business owners, and how to combat them. Her article, A Simple Strategy For Less Stress & Better Results comes complete with a short YouTube tutorial focused on 'mastering success' and helpful free downloadable resources.
Start Up Donut
British author and speaker Penny Power founded Ecademy in 1998, with the intention of helping business people achieve success through a community using online tools. Penny and her husband Thomas built Ecademy into the UK's first social network for business, resulting in a highly interactive community for thousands of entrepreneurs. Recently Penny has been busy writing a book which will be launched in 2019, Business Is Personal. Her article on Start Up Donut shares her journey to better mental wellbeing, and covers four things she's learnt over time, including coming to terms with failures and valuing individual strengths.
StartUp Mindset
StartUp Mindset was developed as an online platform to help entrepreneurs succeed in business. Packed with tools, resources and informative blog posts, the team at StartUp Mindset work hard to inspire and motivate. Staff writer Loraine Couturier's article reveals why having hobbies as an entrepreneur matters, emphasising the importance of disconnecting from your business and spending time doing recreational activities closer to your heart.
Contributor Liz Greene's article on keeping employees' healthy sheds light on things that can be done in the office to increase productivity. 'Healthy employees are happy employees, and happy employees are better, more loyal workers'.
Creator
WeWork is a platform for creators, a community where small businesses and entrepreneurs are empowered to create their own life's work and success. Their Creator Magazine features innovative and informative articles talking all things business. Journalist Erin Geiger Smith's article 'Feeling Stressed At Work? Don't Forget To Breathe' reflects on the issues that accompany a suppression of emotion in the workplace. Within the article she reviews Poppy Jamie's app Happy Not Perfect, aimed to help people refresh their minds, stress less, sleep better and stay balanced.
Tools For Managing Stress At Work
Not only impacting business owners and entrepreneurs, stress in the workplace can affect individuals in all roles and at all levels. Despite increased awareness of mental health issues, many businesses still have limited support in place for employees.
Workplace stress is not only damaging to the individual experiencing it, but also costly to employers as it results in a drop in office morale and overall productivity. In a survey conducted by Mind, more than one in five participants admitted to calling in sick to avoid work when feeling overwhelmed. On top of this, 42% stated that in times of mental ill-health they had considered resigning from their workplace, 14% went ahead and resigned.
The Health and Safety Executive identified the top six causes of stress at work as:
The demands of the job
The control an employee has over their work
The support they receive from managers and colleagues
Relationships in the workplace
The employee's role in the organisation
Organisational change and how it's managed
You can find out more about these causes on leading employee benefit provider Unum's site, where their detailed guide highlights the importance of workplace wellbeing and offers help with managing employee stress.
Mind also has a number of free resources that can be downloaded by business owners to help take care of their employees' wellbeing. Download their free guide to Wellness Action Plans to start the conversation about mental health in a work environment, or take a look at their PDF resource for line managers and HR professionals, detailing how organisations can best support staff at every stage of the mental health spectrum.
If you're business has more than twenty employees, then you can register for the 2019/2020 Workplace Wellbeing Index. Start-ups and businesses in their early stages, however, can benefit from Mind's guide for small businesses.
If you enjoyed this article, why not take a read of: