Meet Memi's Founders: Cruelty Free Makeup Without The Price Tag
Tue, 29 Jan 2019 by Holly Margerrison
With a generation that is growing increasingly more concerned with protecting our planet, securing sustainability and demanding disclosure regarding products, ethics are at the forefront of consumerism. Whilst many well-known makeup brands have made the switch from animal testing to cruelty free, these products often incur premium prices.
Perhaps it is time we instead turn to our fellow SMEs for these luxury products without the price tag. The CPTA (Cosmetic, Toiletry & Perfumery Association) state that more than 4600 SME companies operate in the EU cosmetics industry. This popular yet niche market of naturally sourced cosmetics is a nugget for small businesses, as the new wave of ethical branding provides a unique selling point.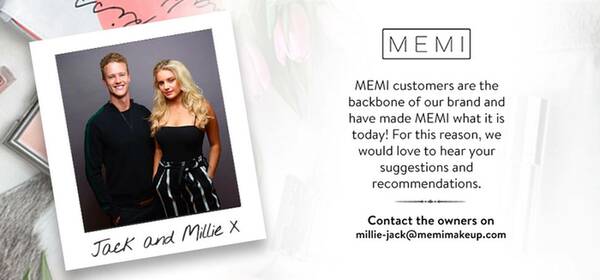 Who better to credit, then, than young entrepreneurs Millie Watson and Jack Thompson, owners of Vegan, Cruelty-free makeup brand Memi? Having launched just over a year ago, Memi has endured highs and lows relatable to any new business owners. Not only have they had independent features in Cosmopolitan U.K and The Daily Mail but they've also been the most credited brand at the Attracta Beauty Awards 2018. MEMI secured three winning categories, in addition to recently launching their full range with U.S. online retailer, Beauty Bridge.
1. What was the main inspiration for your business?
MEMI (or Me-MY) stands for Me myself and I, and we believe that makeup is very personal to each, individual woman and we wanted our brand name to reflect that. Our inspiration is challenging the conventional idea that women have to pay a premium for a quality product. It's an outdated concept that no longer appeals to the digital generation, who are looking for a much more transparent relationship with the brands they choose to engage with.
2. Your luxury products are vegan and cruelty-free – without the luxury price tag! It seems as though you're ticking all the right boxes for millennials. How do you sustain this?
We listen to all customer feedback and keep our relationship with our customers as transparent as possible. It seems a lot of makeup brands have lost their connection with their customers and forget that without them they wouldn't be trading.
With this in mind, we provide our full attention to every customer that contacts us with a question or concern and provide a quick and fair response, because we are aware that without their support our dream of making MEMI a household name will never come true.
3. I believe you went overseas for research and testing – could you expand on this?
Over a 12-month period, we embarked on a busy period of travel, research and discovery – without ever losing sight of the brand proposition and core values. We travelled across Europe and Asia to secure our manufacturers which proved to be a challenge at some points, as we had to ensure not just the quality of the formulations and packaging, but each factory was Cruelty-Free / Vegan and they met the strict E.U regulatory landscape.
4. As an SME, what does your team consist of?
We employ two staff for our I.T and Design sector and work with a number of consultants each month assisting with marketing and P.R initiatives. As a new and upcoming brand, it's key ensuring we keep our operating cost as low as possible, which keeps me a very busy woman!
5. Starting a business when you're young is particularly difficult in many respects. What funding did you receive and how?
To take the business forward, we needed financial backing. Myself and co-founder Jack developed a detailed proposition and after several pitches, secured significant funding from a private equity investor. The agreement was based on the business hitting defined targets – on time and within budget, as set out in a five-stage business development plan.
6. You've mentioned in other interviews that you see yourself as makeup brand Bobbi Brown's younger sister. Do you think it's important to compete against other brands?
The cosmetic industry is worth £17 billion in the U.K alone. This market is very crowded so it's inevitable that there will be direct competition between two or more brands. What's key, is offering a product or formulation that is unique and innovative, because that is what sets you apart from the competition and will aid your brand to really cracking this notoriously competitive market.
7. What makes Memi unique and do you regard yourselves as disruptors in the market?
We wanted to take MEMI a step further, so rather than just offering a luxury product without the luxury price tag, we introduced a trend-led Vegan and Cruelty-free brand that offers not only products that stand out in your makeup bag but products that really deliver results at an affordable price. This is something few well established brands have been able to achieve and we've conquered this within our first year of trading. So, I do believe MEMI is disturbing the market and we've got plenty more up our sleeve to come!
8. As this campaign is targeted at #WomenInSMEs, what's your biggest piece of advice to female entrepreneurs?
You've got to be patient and consistent with every decision you make for your business, people may disagree with your decisions but you have to trust your gut instinct and go with it. Building a brand doesn't happen overnight and it takes a lot of work and long hours so it's important to set short term goals to work towards. The best advice I can give is to just take a risk and go for it!
9. Where do you see the company in five years?
Our three main objectives for MEMI in the next 5 years include – expansion in both the U.K and International Markets, further product development and expanding existing ranges and, lastly, ensuring our company is more sustainable in terms of packaging and day to day operations.
Connect With Memi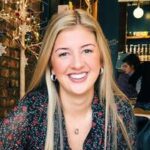 About Holly Margerrison
Holly is a Freelance Writer for SME Loans, responsible for creating content for the SME Loans Blog. Currently in her final year of studying English Literature and Creative Writing at Newcastle University, she is an aspiring Journalist.You can keep in the loop with what Holly's working on by following her Twitter and checking out her blog hollyday golightly.