Top 5 Best Business Books For Entrepreneurs.
Wed, 29 Jul 2020 by Liz Rosling
Summary
Here at SME Loans, we have handpicked a small collection of absorbing and inspirational books that we thought would be incredibly useful for entrepreneurs.
The books that we selected are written by industry-leading experts who have invaluable experience and success working for some of the most recognisable companies in the world.
Broad topics include building a business, changing the status quo, marketing tactics just to name a few.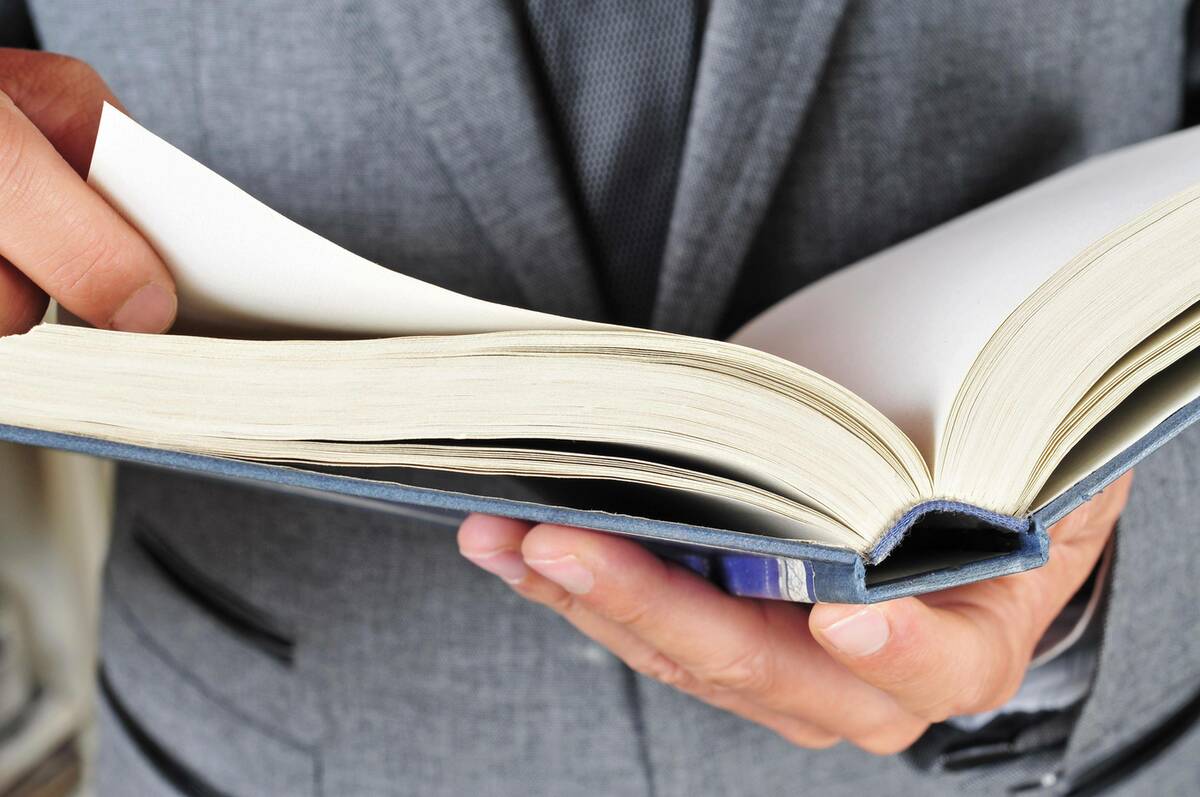 With so many books about business, leadership and entrepreneurial success being published year upon year, it's hard to figure out which reads share the most useful and relevant content. Finding the best business books to read is vital to business education and long-term success. Most highly successful entrepreneurs are readers and credit part of their success to the books they've read.
For example, former Microsoft CEO Bill Gates reads a new book each week, and Mark Zuckerburg (CEO of Facebook) reads one new book every other week. Similarly, Elon Musk, the cofounder of PayPal & CEO of Tesla, used to read science-fiction novels for up to 10 hours every day, and still believes reading is important for learning and growth.
Business owners live busy lives, and whilst you may not think you have the time or luxury to sit down and read a book, you do. Whether this be on the train or tube, whilst waiting for a meeting, or before you fall asleep, the benefits of reading and exercising the muscle we know as the brain arent to be underestimated.
To narrow things down for you, we've rounded up five of the best business books for entrepreneurs: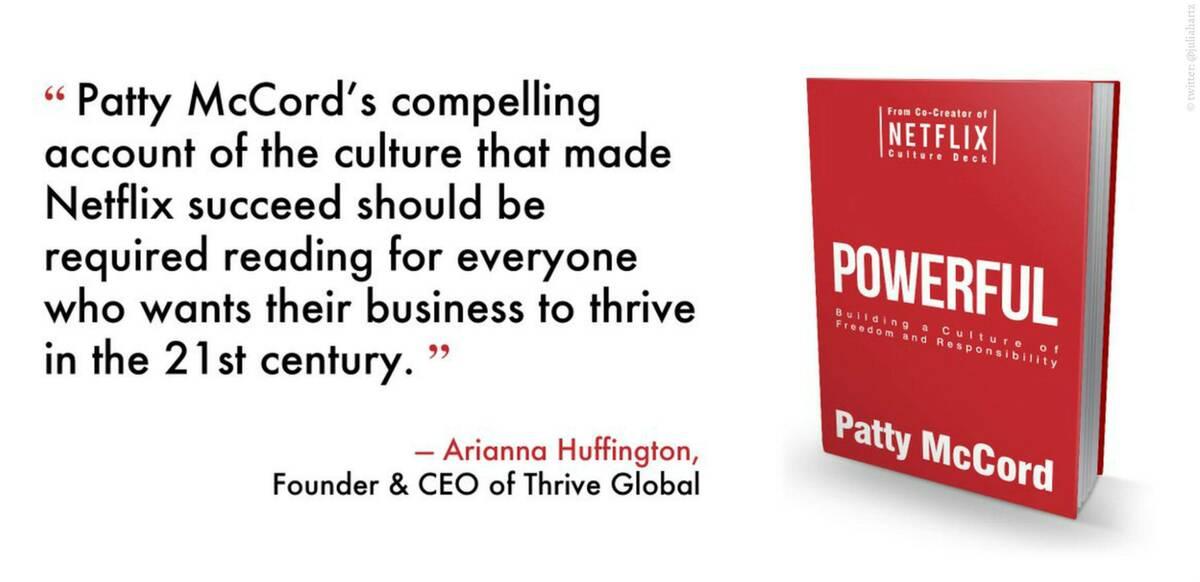 1. Powerful: Building A Culture Of Freedom & Responsibility
Author: Patty McCord | Goodreads Rating: 4.2 | Price: £11.99 (paperback) | Buy Now
Patty McCord spent fourteen years working for Netflix. As their Chief Talent Officer she was responsible for pioneering a performance based HR approach for the company, as well as setting out their core values. She created an influential document entitled 'Netflix Culture: Freedom & Responsibility' which has been shared over 13 million times on Slideshare.
Powerful is not your classic business book, it is a selection of real life company stories that will challenge your thoughts on the way we should be working.
Giving insight into the culture of one of the most successful businesses in the world, she brutally challenges classic opinion on reward based incentives and instead emphasises the true incentive of work as getting to do an incredible job with incredible people.
"Great teams are not created with incentives, procedures, and perks. They are created by hiring talented people who are adults and want nothing more than to tackle a challenge, and then communicating to them, clearly and continuously, about what the challenge is."
2. Measure What Matters: OKRs: The Simple Idea that Drives 10x Growth
Author: John Doerr | Goodreads rating: 4.05 | Price: £11.55 (paperback) | Buy Now
If you want to understand what has made Silicon Valley, take a read of Measure What Matters. It talks about the growth of the revolutionary approach to setting goals: Objective and Key Results (OKRs).
American investor and venture capitalist with a net worth of $7.5 billion dollars, John Doerr was the first to recognise the power of OKRs. He was responsible for bringing them to the founders of a startup that grew to be the globally recognised, hundreds of billion dollar company Google.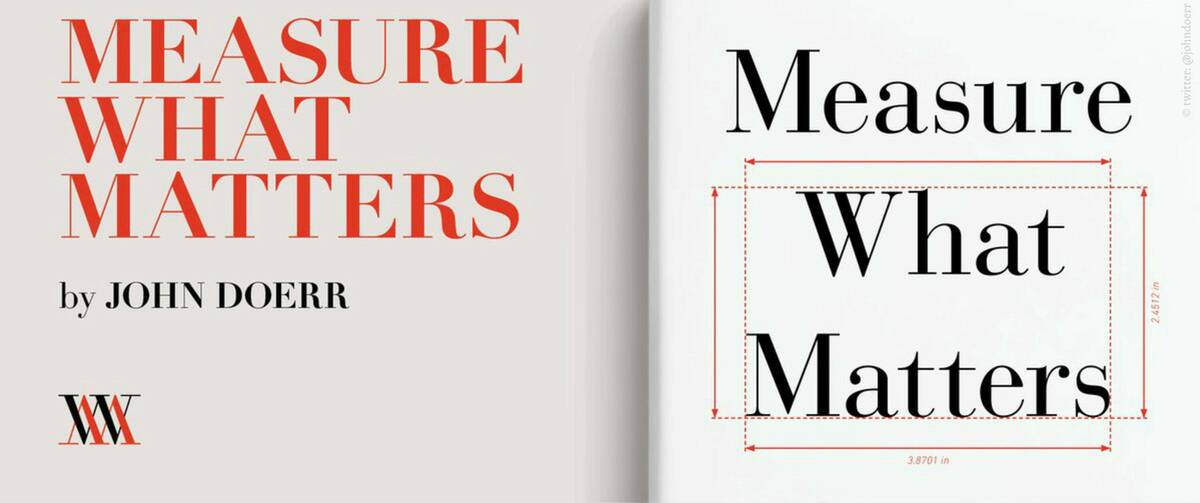 Since then, Doerr has introduced OKRs to over fifty other companies and in Measure What Matters, with extracts from Bill Gates and Bono, he teaches us (among many other things) the importance of collecting and collating relevant data to track business progress.
"Leaders must get across the why as well as the what. Their people need more than milestones for motivation. They are thirsting for meaning, to understand how their goals relate to the mission."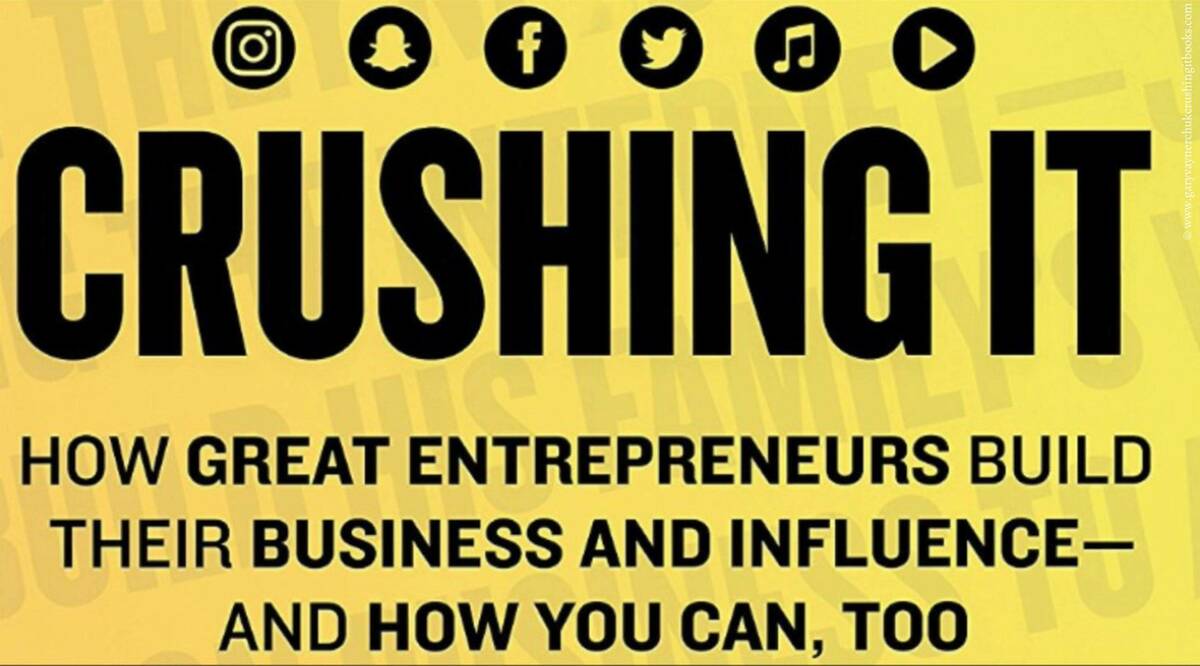 3. Crushing It!: How Great Entrepreneurs Build Their Business and Influence – and How You Can, Too
Author: Gary Vaynerchuk | Goodreads Rating: 4.21 | Price: £13.95 (paperback) | Buy Now
In 2009, New York Times bestselling author Gary Vaynerchuk published Crush It, a book focused on the importance of personal branding to entrepreneurial success.
Since then, Gary has published Crushing It! where he draws on experiences from entrepreneurs who have continued to grow wealthier due to their understanding of social media platforms and the need to use these tools to their full potential.
The success stories go to show that in order to achieve your business goals, you need to put in the work day in and day out (not just working 9-5). By reading Crushing It! you will realise just how much opportunity truly exists, and learn that the by being dynamic you will be able to build your influence in markets that are continually changing.
"You're going to go through a time where you're not going to make any money. It's not going to be a week, it's not going to be a month, it's not going to be one year. It's going to be years. And during that time, if you don't love what you do, it's going to be very hard to stick it out. That is something that people don't understand when they hear, "Follow your passion." They hear rainbows, unicorns, bullshit. But the truth of it is that it's important, because if you don't enjoy what you're doing, you're going to be that much more likely to quit when shit's hard."
4. Imagine It Forward: Courage, Creativity and the Power of Change
Author: Beth Comstock | Goodreads Rating: 4.17 | Price: £14.99 (paperback) | Buy Now
Imagine It Forward shares a personal narrative, in which American business executive Beth Comstock writes about lessons she's learnt over her successful thirty-year career at General Electric. From Chief Marketer to Vice Chair, she was considered right hand to CEO Jeffrey Immelt and led efforts to accelerate the company's growth.
Trustee of The National Geographic Society and a director at Nike, Beth holds an impressive CV. In Imagine It Forward, she helps us understand how to navigate change, spot trends and take calculated risks.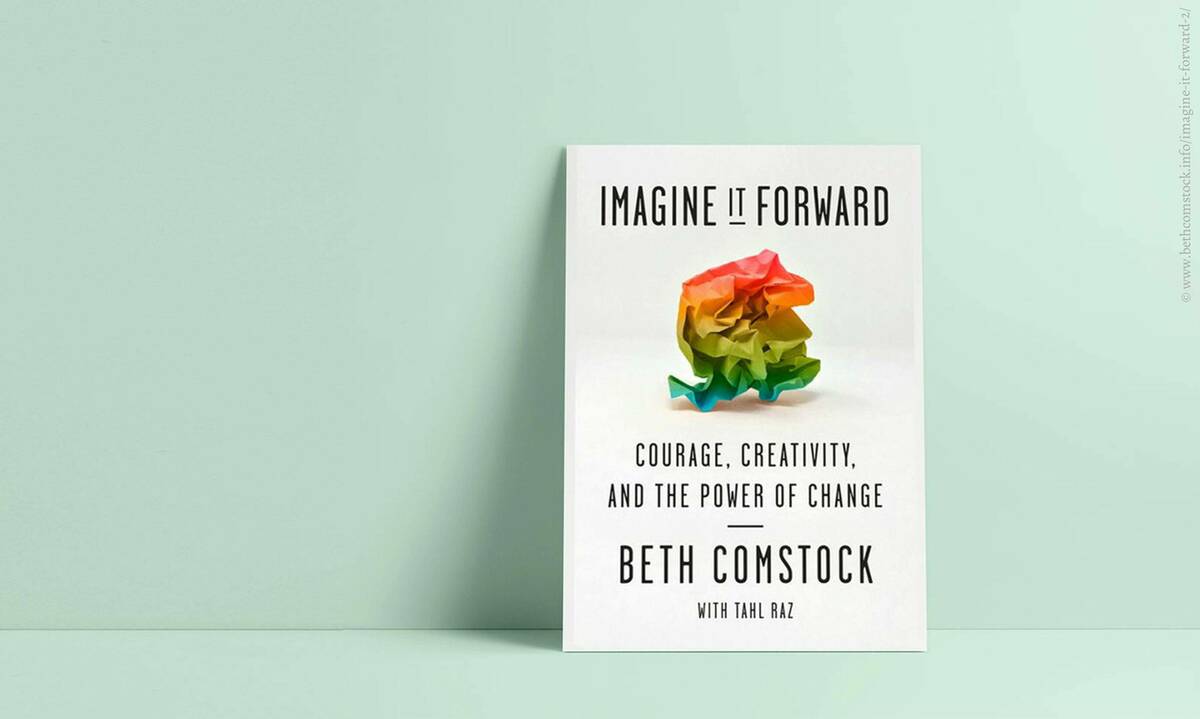 With contributions from Tahl Raz, the book reminds us to challenge traditional schools of thought. It teaches us that in order to be an effective changemaker, we need to give ourselves authorisation to push outside expectations and boundaries.
"People who effect radical change have to exhibit an uncompromising faith in experimentation, a bias for novelty and action, and a sense that disruption is something you cause, not observe."
"Who are you waiting for to tell you it's okay? Your boss? Your mother? Yoda? Grab your own permission. No one is going to give it to you."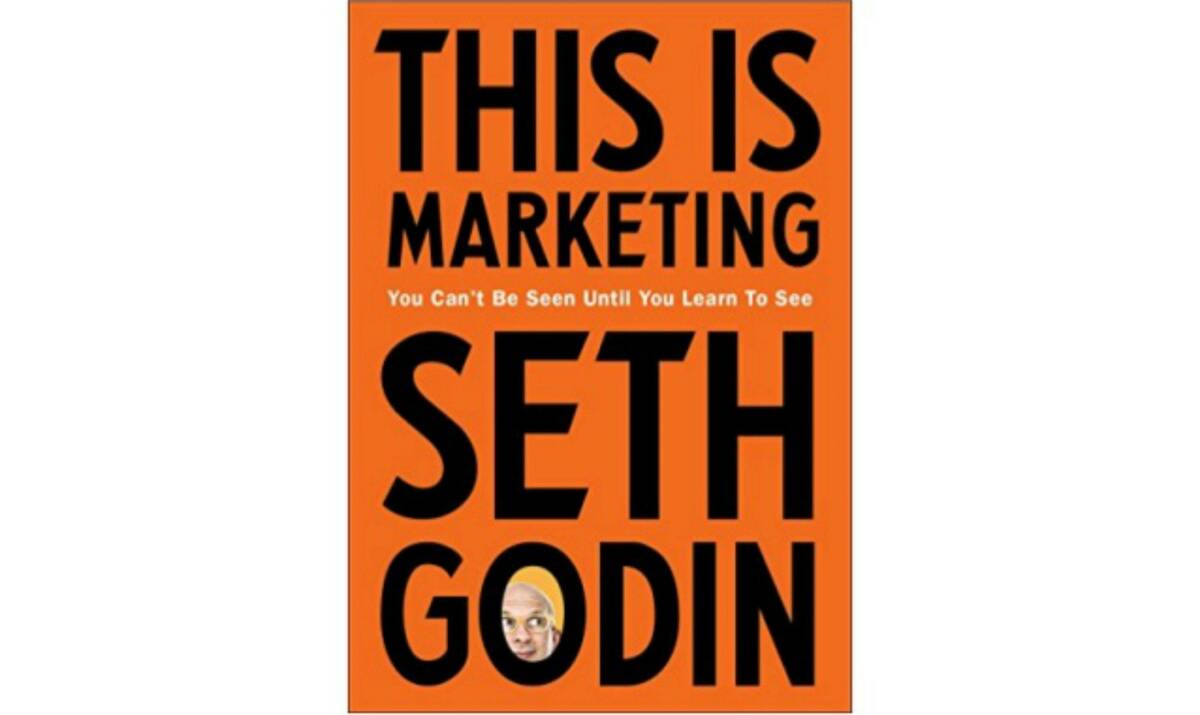 5. This Is Marketing: You Can't Be Seen Until You Learn To See
Author: Seth Godwin | Goodreads Rating: 4.05 | Price: £10.78 (paperback) | Buy Now
Seth Godwin, an American author and dot com business executive, founded Yoyodyne in 1995. Coining the concept 'permission marketing', Seth promoted permission marketing and used online games to market companies to participating users.
In 1998, he sold Yoyodyne to Yahoo! for $30 million, and became their vice president of direct marketing. For the past fifteen years, Seth has been inspiring entrepreneurs and marketers with his blog, online courses and lectures. Seth's book This Is Marketing has lived up to expectation and continued to inspire.
Whether you're a startup founder, a small business owner or an executive at a larger company, Seth teaches you how to position yourself within your target market, using tactics like empathy and connection instead of spammy ads and email funnels.
"That's what most people seem to care about. How big a brand, how much market share, how many online followers. Too many marketers spend most of their time running a hype show, trying to get just a little bigger. The thing is, tall sunflowers have deep and complex root systems. Without them, they'd never get very high.
This is a book about roots. About anchoring your work deeply in the dreams, desires, and communities of those you seek to serve. It's about changing people for the better, creating work you can be proud of. And it's about being a driver of the market, not simply being market-driven."
Frequently Asked Questions
Business books are an incredibly useful tool for an entrepreneur. They allow entrepreneurs to learn new skills and provide insights and tips to help develop strategies and ultimately can teach you how to run a business. They're also excellent sources of inspiration, which can be put into practice within your business.
Business books to read if you're an entrepreneur – Powerful, Building a Culture of Freedom & Responsibility, by Patty McCord; Measure What Matters, by John Doerr; Crushing it!, by Gary Vaynerchuk; Imagine it Forward, by Beth Comstock; This is Marketing, You Can't Be Seen Until You Learn To See, by Seth Godwin.
Reading business books can be an incredibly rewarding experience undertaken by all successful entrepreneurs. Books that are written by industry experts offer an opportunity to learn and consolidate knowledge for your profession. Reading helps shape how entrepreneurs run their business and helps overcome challenges, which can lead to success.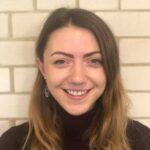 About Liz Rosling
Liz is a business finance specialist, responsible for publishing relevant industry insight for SME Loans. Also an author at StartUp Mindset, Liz uses her years of experience in the financial services sector, to equip small business owners with the guidance and expertise they need to realise their full potential. Stay up to date with Liz through LinkedIn and Twitter. You can drop her an email at liz.rosling@dojono.com.