Northern Ireland Business Loans Up To £500K
Competitive Funding For Northern Irish Businesses
Access £1,000 – £500,000 in just 24 hours
Everything You Need To Know:
---
SET UP A BUSINESS IN NORTHERN IRELAND
Belfast's Startup Scene
Belfast, the capital city of Northern Ireland, is the second fastest growing knowledge economy in the UK. Boasting excellent digital infrastructure, according to Belfast's City Council 75% of businesses that locate in Belfast choose to re-invest.
With 41% of Belfast's population under 30 years of age, it's one of the youngest cities in Europe, full of potential skills and talent. Previously an industrial economy, Belfast's history of shipbuilding proves that the city has innovation in its DNA.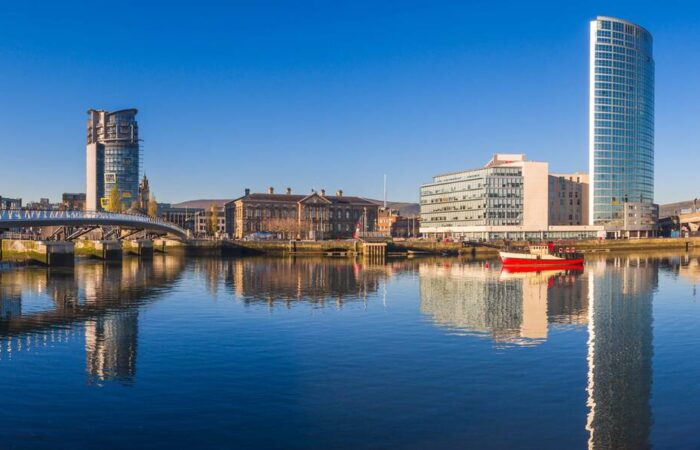 A great place to do business, Belfast is a hub for inward investment from major trading companies. Businesses benefit from a highly educated workforce, strong transport links and a focus on local business support.
In the last ten years, Northern Ireland's tech scene has grown rapidly. A centre for enterprise it has seen huge development, and become a hotspot not only for tourists, but for film and TV production, including the iconic Game of Thrones series.
Belfast's Startup Scene
Tom Griffiths is a highly successful entrepreneur who co-founded online travel community Gapyear.com in 1998. Now head of Acorn Incubator, he helps budding entrepreneurs get their business ideas off the ground.
STARTACUS (the online space for startups, entrepreneurs and self-starters), spoke to Tom to get an 'outsider's opinion' on Belfast's startup scene, here's what he had to say:
"My first impression was 'this is a really exciting place'. It's very clear immediately that there is a lot going on here with plenty of great organisations like the Northern Ireland Science Park, Friday Night Mash Up, Invest NI and The Prince's Trust. So, on the face of it, it's exciting and buzzing, but deeper down it's more limited, the ecosystem is still developing and hasn't reached the levels of many other places in the country… but it is definitely getting there. In many ways NI is like a new economy, there are new buildings and organisations sprouting up all over the place.
That's one thing I really remarked, there is a real sense that this place is going somewhere, it's a small place but I think a lot of the time that actually works in its favour – everything is really accessible, the infrastructure is great and there is a fantastic sense of community within the startup scene. Northern Ireland is a small place but it is very well connected, especially to other major UK cities like London."
Resources for Entrepreneurs In Northern Ireland
Run by The Prince's Trust, the EEP helps young people interested in self-employment write business plans and explore & test their business ideas.
A tailored startup package for people contemplating setting up their own business. The package offers advice and support that is free and available throughout Northern Ireland.
An award-winning organisation that offers tailored information and guidance on starting, running and growing a business. Advantage NI is committed to promoting starting a business as a realistic, viable career option for young people.
Delivered free of charge by the Local Council through Northern Ireland's wide network of experienced business mentors, the programme enables budding entrepreneurs to receive:
a one-to-one assessment meeting with your local business advisor
a finance and business planning workshop
a one-to-one finance and business planning meeting
tailored guidance to develop your business plan
best practice guides, tools, videos and more to help you get started
An organisation helping 16 – 30 year olds to start and develop their own business. Shell LiveWIRE hosts a national competition each year for new startup entrants.
NORTHERN IRELAND'S ECONOMY
Startups & Growth Firms
The Northern Ireland Local Growth Dashboard was developed by the Enterprise Research Centre (ERC) to provide comparative statistics through growth metrics for startups and firms across a range of regions in Northern Ireland. Published Novembe 2018, the dashboard disclosed data from 2014 – 2017.
The number of startups in a given area is often used as a major metric of enterprise and entrepreneurial ability. Despite the number of startups incrementally growing, trends show spatial disparity across the country, revealing 'hotspots' of startups and business growth in Northern Ireland.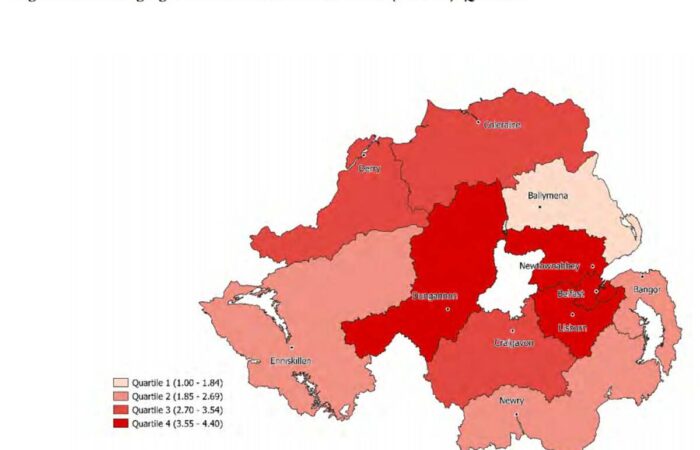 As shown in Figure 1, the north and east of Ireland are generally where less people are founding startups. Unsurprisingly, the country's capital Belfast is the exception of this, which shows startup rates far above the Northern Ireland average. Startup rates in Northern Ireland (27 per 10,000 population) are considerably lower than the rest of the UK (50 per 10,000 population).
Small High-growth Firms
High Growth Firms are defined as 'businesses with average annualised growth that's greater than 20% per year, over a 3-year period, with 10 or more employees at the beginning of the observation period'. This definition excludes microbusinesses, which make up a considerable portion of Northern Ireland's economy.
For this reason, the ERC has adapted this definition to 'Small High-growth Firms (SHGF)'. Between 2014 and 2017, the UK's SHGF incidence rate was 1.5%, Northern Ireland is double that at 3.2%. Despite the high number of startups in the country, the growth metrics have revealed that there are very few firms in Northern Ireland transitioning to be categorised as 'high-growth' or 'scaling-up', which contributes to overall economic productivity growth.
BUSINESS LOANS IRELAND
Applying For Business Finance
Access to funding remains an issue for businesses in Northern Ireland as it does with the rest of the UK. In Northern Ireland, SMEs account for roughly ¾ of all private sector jobs and overall turnover. For this reason, easy access to sources of finance will be crucial to helping Small High Growth Firms to grow.
In 2011, Invest NI implemented its Access to Finance Strategy, which set out to provide a total support of £181 million to growing businesses up until 2024. Now in its 8th year, Access to Finance has helped several local SMEs receive investments through business loans Ireland.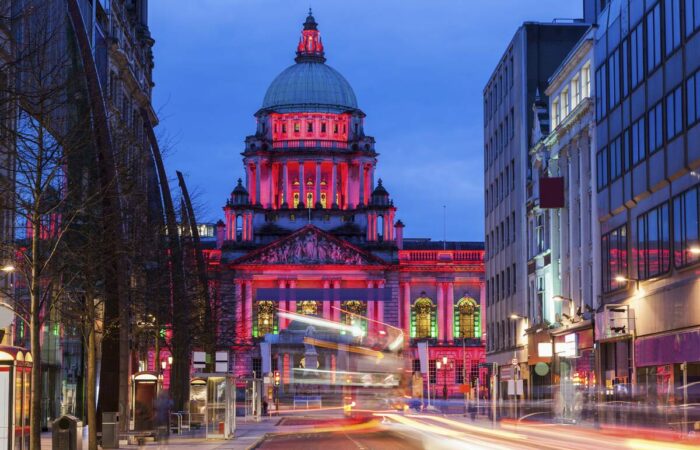 Lending from traditional facilities (such as banks), is the most popular option for business loans in Ireland. Research reveals that just under 50% of businesses applying for loans in Northern Ireland are rejected by lenders, which is why SME Loans is focused on providing alternative funding products to Northern Irish SMEs.
Is Your Business Eligible?
Here at SME Loans we can provide finance to businesses in Northern Ireland through:
For Northern Irish businesses, our simple requirements are as follows:
For a business loan, a minimum monthly turnover of £5,000
For merchant cash advance, minimum monthly average card sales of £5,000
Actively trading for 6 months
Business owner / director is over the age of 18
How to apply for business loans in Northern Ireland
Step 1:
Complete our 1-2-page online application form. As well as being asked for your personal information, we will also ask some basic details to verify your business. Please expect to disclose:
The amount you want to borrow
Average monthly card sales
Name of your business
Number of years trading
Step 2:
Within hours of submitting your application form you will be matched by us to the most suitable lender for your business, and you will receive the lender's full terms of agreement regarding your startup loan.
Step 3:
Once you have carefully read through the lender's terms, you will need to sign and agree to them. After the agreement has been returned to your lender, the loan amount will be deposited to your account within just 48 hours.
There's no need to be intimidated by SME Loans application process, we're on hand to guide you through it. If you want to find out more about whether your business is eligible to apply for finance, please get in touch at 01244 506279.
Our business loans Ireland are one of the quickest and easiest finance products to apply for, providing unsecured funding to help your business grow. Apply today.