Loans & Finance For UK Nightclubs Up To £500K
Fast & Affordable Business Finance For Nightclubs
Access £1,000 – £500,000 in just 24 hours
Everything You Need To Know
THE NIGHTCLUB INDUSTRY
Running A Nightclub In The UK
Night life is a vital part of British culture. The total worth of the industry is estimated at around £66 billion in the UK, contributing a substantial amount every year to the country's economy. According to the Institute for Employment Research, there are 332,700 people working in the pubs, bars and nightclubs industry, with around 59,100 employers.
The vast majority of nightclubs tend to be independently owned, making the market competitive, but with nightlife being such a key part of British culture, now is a great time to get involved and invest in the industry.
Opening A Nightclub Business
The nightlife industry will always be a highly competitive one, with clubbers tending to prefer to stick to their favourite few bars and nightclubs. When opening a nightclub business, it is important to consider how you are going to ensure that it is your club that everyone is queuing up for. Take time to thoroughly consider:
1) Your Business Plan
Carefully consider what you want your club or bar to look like, what sort of atmosphere you want to capture, and what type of crowd you want to attract. Look at other nightclubs in the area and consider what niche is going to make your business stand out against the others.
2) The Location Of Your Nightclub
Having a bar or a nightclub that is far from the centre of town is likely to dissuade customers from coming in. Securing yourself a property that is located within close proximity to other popular nightlife venues is likely to be beneficial to your business' overall success.
3) Music & Drink Selection
Unless you plan to target a really specific niche market, your music and alcohol selection should cater for a wide range of potential customers. Be sure to research carefully which drinks are most popular, to avoid completely over or under buying and wasting your valuable working capital.
4) Marketing
In order to be successful you will need to find ways to promote your nightclub. A popular way to advertise new nightclubs or bars is to hire staff to hand out flyers to people, offering initial discounts on entry and drinks. You could also utilize social media as a potentially more affordably means of advertising.
5) Consider Funding
When it comes to starting up any new business, securing funding is a key factor for the vast majority of entrepreneurs to consider. There are many nightclub expenses to bear in mind when getting started within the industry. The estimated cost of starting up a nightclub is anything between $239,250 – $827,100, approximately £192,129 – £664,218. There are of course costs that you can potentially reduce or eliminate, but some costs, such as licences, simply cannot be avoided. There are many funding options out there for you to consider, including business loans, merchant cash advances, crowdfunding and even angel investors.
What Licenses Do You Need To Open A Nightclub?
When it comes to starting up a nightclub, there are a number of licenses that your business will be required to have. As a minimum, your business will need a club premises certificate, alcohol license, an entertainment licence, a hot food and drink license, and nightclub insurance. UK regulations on nightclubs are strict, and you need to be sure that you have acquired all the appropriate licences before your business launches.
Are Nightclubs Profitable UK?
Overall, UK nightclubs have slightly declined in profitability in recent years, however it seems that the demand for nightlife itself has not decreased. Recently illegal raves have nearly doubled, suggesting that supply is not meeting demand. People are clearly after something that doesn't seem to be currently available to them through mainstream clubs, and there is opportunity there for your startup to be distinct and successful.
NIGHTCLUB FINANCING
Funding Routes For Nightclubs
Setting up a nightclub is undoubtedly high cost. For many entrepreneurs, securing funding via the banks is not always a feasible option, as most banks no longer supply small or new businesses with loans. However, there any many alternative funding options available online which will allow to you secure the funding your business start-up requires….
What Is Nightclub Financing?
It can be particularly challenging for nightclub owners to find financial support from lenders, as they are often viewed as high-risk businesses. However, there are nightclub financing options and products available which are especially designed to meet the needs of this business types' business owners.
Can You Get A Loan For A Nightclub?
Whilst banks are unlikely to offer you the financial support you require, other alternative funding lenders will, and it is perfectly possible to secure yourself a loan for your nightclub ventures. SME Loans offers loan products especially designed for small and new nightclub businesses, as well as bar and pub finance options.
Is It Easy To Get A Business Loan For A Nightclub?
At SME Loans, we do not approve funding solely on your credit score, but instead on your business' overall financial performance. This makes our funding products much more accessible and generally very easy for nightclub SMEs to attain.
APPLY FOR NIGHTCLUB LOANS
SME Loans Online Application
At SME Loans we can help you secure quick and convenient funding for your nightclub business. We work closely with individual businesses to ensure that we match each and every one to the very best funding option for them and their growing business. To date we have helped several nightclubs get the party started and build upon their business to reach new musical heights.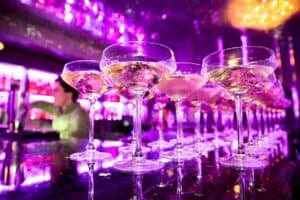 Qualifying Criteria
To find out whether your nightclub business is eligible for funding with us, check that your business:
Is registered in the United Kingdom as a limited company, partnership or sole trader
Has been actively trading for a minimum of 6 months
Has a monthly turnover of at least £5,000
Has a business owner over the age of 18 years.
Applying With Bad Credit
It can be difficult to secure funding for your business when you have a poor credit rating, but because SME Loans are able to approve loans based on business' financial performance, instead of solely on credit score, it is possible to secure funding with us even if your credit history isn't as good as it could be. Through our bad credit business loans we are able to offer you the funding you require to see your business thrive.
Unsecured Business Loans
SME Loans can offer you nightclub financing through an unsecured business loan. You can look to borrow anywhere between £1,000 to £500,000 to help you meet nightclub startup expenses, the general upkeep of your business, or to fund an exciting new venture.
With our business loans, you can expect to have the funding supplied to your account rapidly, within a little as 24 hours. Once you have received the funding, it will then be on you to make repayments in monthly instalments, with interest rates included.
Merchant Cash Advance
A merchant cash advance enables your nightclub business to access between £5,000 to £500,000 in as little as 24 hours, providing your business with a great number of benefits. The application process is quick and easy, and can be completed entirely from the comfort of your own home, office or nightclub premises.
A merchant cash advance differs from a loan in that it functions as an advance on your business' monthly revenue, through both your credit and debit card sales. Repayments will be made each month, and will be automatically deducted as a small percentage of your card transactions. Any revenue which is generated through cash sales will be kept by your business however, and no interest is charged on the borrowed sum.
Personal Guarantees
Because the funding products we offer to businesses are unsecured, we may ask you to instead provide us with a personal guarantee. This simply ensures that if repayments are defaulted on by your business, the owner will then become responsible for meeting any repayments that remain outstanding.
Apply For Nightclub Funding Today
Step 1:
Click on to our application page. Here you will be asked for further details about your business, to ensure that we successfully match you with the lender best suited to you and your business. We will ask you to provide us with:
The name of your business
How many years you have been trading for
Your average monthly card sales / average monthly turnover
Step 2:
We will then ask you for:
Your title, first name and surname
Your position within the business
Your email address and telephone number
Step 3:
Once you have provided us with these details, click to accept the terms and conditions and then click 'get my quote'. Your application will then be processed and assessed by one of our approved business finance suppliers.
Step 4:
One of our account managers will soon be in contact with you by either phone or email, to discuss the terms of your nightclub business loan or cash advance agreement.
Step 5:
Please be sure to carefully read through all of the terms of agreement, then sign the relevant documents and return them back to the lender. You should then receive the funding to your account within as little as 24 hours.