Business Loans Scotland | £1,000 – £500K
Affordable & Flexible Business Loans For Scottish SMEs
Access £1,000 – £500,000 in just 24 hours
Everything You Need To Know:
---
SCOTLAND'S ECONOMY
What is Scotland's economy like?
A number of prominent, globally recognised entrepreneurs have come from Scotland, a testament to the country's strength as a place to start and grow a business. A tourist hub, famous for its World Heritage Sites, natural rural beauty and buzzing city life, Scotland is a great scene for inspiring entrepreneurs and growing startups.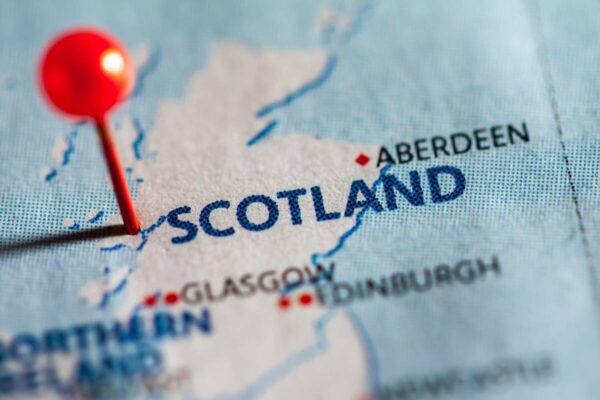 Businesses in Scotland
According to the Scottish Government, as of 2018, there were a total of 345,915 private sector businesses in Scotland. 8,830 businesses less than were recorded in 2017, this represents a 2.5% decrease.
This decrease is thought to have been driven by a fall in the number of 'unregistered businesses'. Unregistered businesses are sole proprietorships and partnerships not large enough to be VAT or PAYE registered. I.e.: they have an annual turnover less than £85,000, which is below the VAT threshold.
According to the Royal Bank of Scotland, business confidence within the country has also hit a 28-month low amid Brexit uncertainty. Private sector business' activity is falling and there has been a sharp decline in production by the manufacturing sector.
Concerns regarding the domestic economy and the impact of Brexit were commonly cited factors for the decline, according to the RBS Purchasing Mangers' Index. The PMI data indicated that business health has fallen, and the private sector economy as subdued.
Share Of Enterprises, Employment and Turnover
(by business size, for 2018)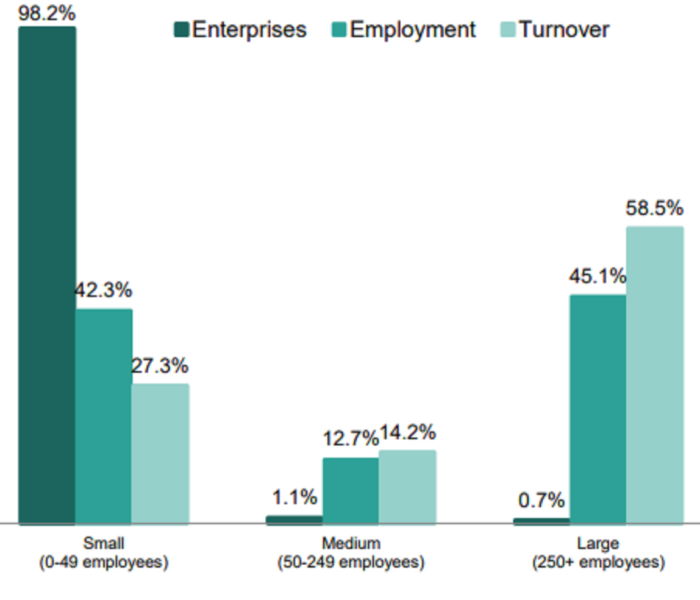 Graph taken from 'Businesses In Scotland, 2018'. Official Statistics Publication for Scotland, Scottish Government
As shown in the graph, 98.2% of Scotland's private sector businesses were small with 0-49 employees, 1.1% were medium-sized with 50 – 249 employees, and just 0.7% were large with 250+.
SMEs therefore account for 99.3% of all private sector enterprises, 54.9% of employment and 41.5% of overall turnover.
Compared to urban areas, SMEs account for a larger share of private sector employment in rural areas. As of 2018, SMEs accounted for 78.3% of employment in remote rural areas, 69% in accessible rural areas and 46.4% in urban areas.
The 'Wholesale, Retail and Repair' sector accounts for the largest portion of employment in urban areas
The 'Agriculture, Forestry and Fishing' sector accounts for the largest share of employment in rural areas
Fear of Heights
A report that coincides with a study by the Enterprise Research Centre indicates that small and medium sized enterprises in Scotland are growing more slowly than those elsewhere in the UK.
With the country facing considerable challenges, MSP Gordon Lindhurst states:
"Economic growth in Scotland over the last 10 years is significantly below Scottish government targets and there is no doubt that the Scottish economy is facing a challenging set of circumstances.
This report has sought to highlight some of these challenges whilst also recognising that there are opportunities for growth.
We have a resilient labour market and a strong business community, but we need to encourage more entrepreneurship as well as ambition within existing businesses in order to strengthen productivity.
We found some companies had a 'fear of heights' – lacking confidence to scale-up and grow."
The committee's recommendations outlined the focuses for the Scottish Government, including:
The need for a consistent and settled definition of inclusive growth;
The economic potential of regions across Scotland being fully recognised, reducing the gap between the low-performing and high-performing urban and rural areas;
The need for more to be done to support women in business through access to funding and advice.
Scottish Enterprise Business Plan 2018 – 2019
The Scottish Enterprise supports business' and industries to create equal opportunities for all. They focus on creating jobs, stimulating business growth and ensuring international success for the people of Scotland.
In their two-year business plan, they outline the recent caution triggered by the UK's decision to leave the European Union. Alongside this is their core outcomes, that they hope will improve Scotland's economic productivity:
Securing more inward investment and capital investment for Scotland
Increase research and development to support more companies innovate
Helping more companies internationalise and compete in growing global markets
Promising to continue to work with Scottish Government on the impacts of Brexit and political uncertainty, full details can be found in the SE report.
RUNNING A BUSINESS IN SCOTLAND
Edinburgh & Glasgow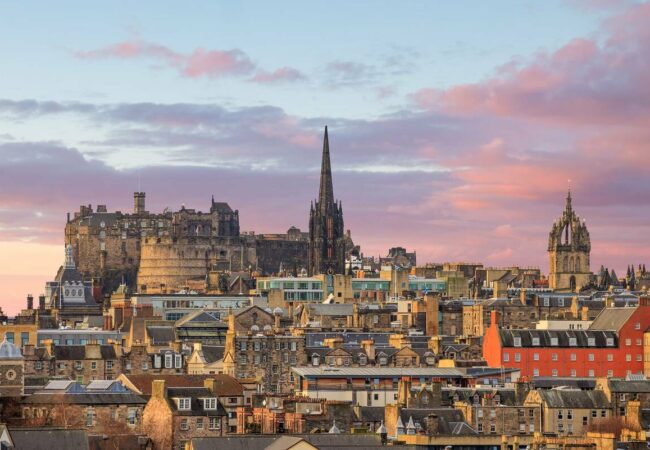 Edinburgh
Edinburgh took the top spot in the Start-up Cities Index for 2017. As Scotland's capital city, Edinburgh is home to a big start-up scene and cluster of fast-growth businesses. The benefits of running a business in this area of Scotland come from its central transport links, support for tech businesses and range of available office spaces.
As Scotland's second most populated city, it is home to over 400,000 residents. Aside from London, Edinburgh has the strongest economy of any city in the UK. 43% of its population holds a degree-level or similar professional qualification, making it an extremely competitive and dynamic place to set up up a business.
Throughout the 19th century, Edinburgh's economy was famous for banking, publishing and brewing. Today, its economy is largely made up by the financial services, scientific research, higher education and tourism. A city full of history, it is the second most visited city by tourists (following London) in the UK.
In 2017, Edinburgh was named as the best place to start a small business in the UK. Emerging as a strong UK tech hub, another attractive characteristic is the city's small size – which makes it easier to create a strong social network with other established firms in your sector.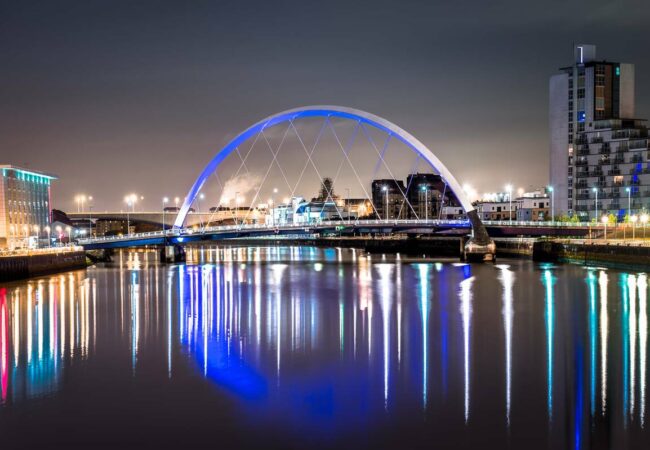 Glasgow
Glasgow is a Scottish central business district that has the largest economy in Scotland and the third highest GDP per capita of any city in the UK. Hosting 2.2 million tourists each year, the city has over 1.2 million inhabitants that work within a 45 minute commute.
As a city it sustains over 410,000 jobs in over 12,000 companies. Historically it was one of the most prominent cities in the UK for manufacturing, which originally generated a large amount of the city's wealth. Although the manufacturing sector has now seen a decline, Glasgow has experienced relative growth through tertiary sector industries such as the financial services and bio / life sciences.
Maureen Eisbrenner is co-founder, CEO and chairman of arbnco, a building energy simulation company that benefits from being based and working in Glasgow. She had this to say about running a business in the city:
"Glasgow, and indeed Scotland, offers a unique environment for green businesses, with a climate-friendly legislative framework, greater access to funding, academic expertise and a precedent of being a world leader in renewables.
"This combination of factors provides smaller companies within the energy sector with a progressive and collaborative environment, enabling them to undertake research projects and develop innovative capabilities."
BUSINESS LOANS SCOTLAND
Applying For Business Finance
Access to funding remains difficult for businesses across the UK. At SME Loans we recognise this, which is why we are on hand to offer easy access to finance to all small and medium sized enterprises based in Scotland.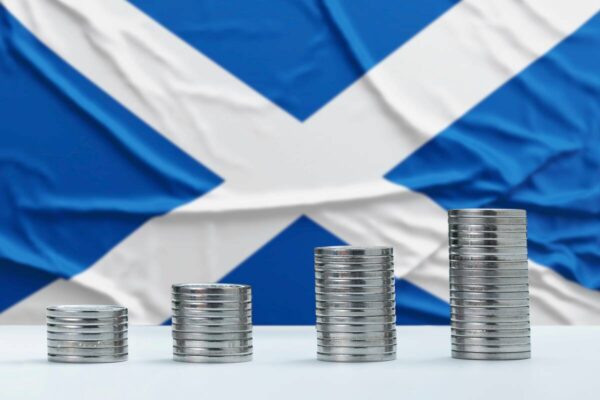 Is Your Business Eligible for business finance?
Here at SME Loans we can provide finance to Scottish businesses through:
For Scottish businesses, our simple requirements are as follows:
For a business loan, a minimum monthly turnover of £5,000
For merchant cash advance, minimum monthly average card sales of £5,000
Actively trading for 6 months
Business owner / director is over the age of 18
How to apply for business loans in Scotland
Step 1:
Complete our 1-2-page online application form. As well as being asked for your personal information, we will also want to understand more about your business, including how much funding your seeking and how you plan to use your loan.
Step 2:
Within hours of submitting your application form you will be matched by us to the most suitable lender for your startup, and you will receive the lender's full terms of agreement regarding your startup loan.
Step 3:
Once you have carefully read through the lender's terms, you will need to sign and agree to them. After the agreement has been returned to your lender, the loan amount will be deposited to your account within just 48 hours.There's no need to be intimidated by SME Loans application process, we're on hand to guide you through it.
If you want to find out more about whether your microbusiness is eligible to apply for finance, please get in touch at 01244 506279.Our business loans scotland are one of the quickest and easiest finance products to apply for, providing unsecured funding to help your business grow. Apply today.