Meet The Research Retold's Founder: The Award-Winning Research Communication Agency Combining Data & Creativity
Tue, 05 Mar 2019 by Alice Farren
Meet Mihaela Gruia, Founder and Director of Research Retold; an award-winning research communication agency that prides itself on helping researchers and evaluators 'retell' their findings to stakeholders in creative, easily-digestible formats.
'It is this process of capturing the essence of the research and retelling it using accessible language and visual aids that we aim to deliver at Research Retold.'
Having already developed a strong foundation, Research Retold are well on their way to becoming a leading research communication company within the UK. Their driving motivation is to make knowledge accessible and actionable by offering researchers a reliable, collaborative and transparent service.
As part of our #WomenInSMEs campaign we chatted to Mihaela, about how she came to be a successful female entrepreneur: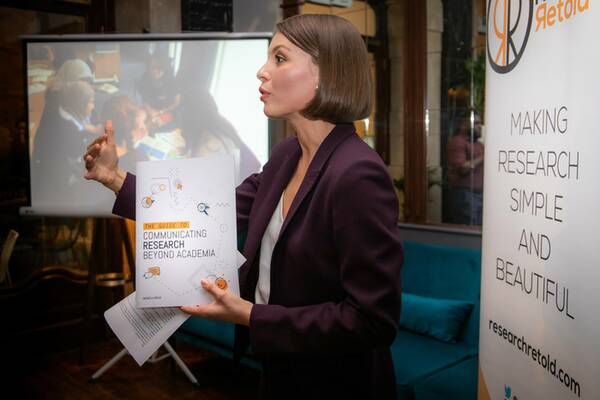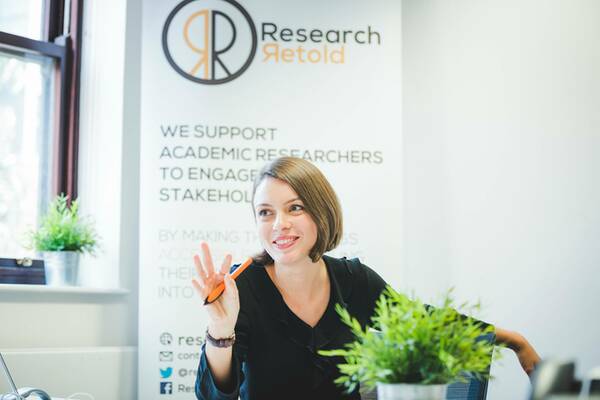 Why did you start your business, can you tell us about the journey of how you got going?
I started my professional life in Brussels, working for a public affairs consultancy. It was there that I learned about effective communication of complex information. I continued my studies and training as a social scientist and data scientist. Throughout my education, I've always been keen to make complex information easier to understand and to apply theoretical concepts to real-life situations.
My first taste of entrepreneurship came through the University of Sheffield Enterprise (USE). In November of 2014 I pitched a business idea at the Startup Weekend: a company that would help researchers present their findings in accessible and visual ways. Although I did not win any prize, I did meet my first client, Dr Adam Hill, Lecturer in Sound Engineering at the University of Derby. He commissioned us to do a 1-page infographic of his journal article. I was over the moon. I realised this need was prevalent among academics and set about to figure out a way to solve that need by using my skills at the time.
After successfully completing the New Entrepreneurs Foundation in 2016, and winning the David Pearl pitching, I felt that I had the validation I needed to plough on. After many sleepless nights and frustrating brainstorming sessions I decided on "Research Retold" as our name. The official anniversary of Research Retold was on the 8th of November 2018, and I couldn't be prouder to have turned one year old. It's been a journey of growing, learning and moving limits further and further.
That's such a nice back story – what would you say has been your biggest achievement to date?
Our greatest successes so far have been winning the New Entrepreneurs Foundation David Pearl Prize, collaborating with 50 researchers across 7 UK universities, being featured with a full page in the Business Section of the Yorkshire Post, and publishing our 32-page Guide to Communicating Research Beyond Academia.
Our biggest challenges have been balancing our status as a new company with the need to build a track record of successful collaborations, establishing a trusted brand with our customers, identifying the most appropriate marketing channels and strategy, and building a sustainable pipeline of projects to support building a team.
What's the biggest piece of advice that you have for fellow female entrepreneurs?
Surround yourself with a support network to further your learning and offer support. Starting out in business can be a lonely journey and having the right people around to encourage you along the way can make all the difference.
Why were you drawn to the campaign, can you offer a comment on why you think it's important?
Shining a spotlight on female entrepreneurs is a cause close to my heart because we can't become what we don't know is possible! Seeing people who look like you represented in the media boosts confidence and opens the door for other young women to take a step towards their dream.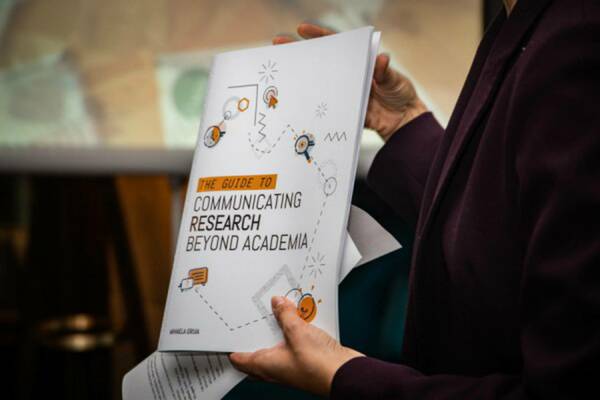 More From Our #WomenInSMEs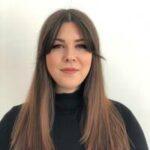 About Alice Farren
Alice Farren is a financial journalist and SME specialist. With a burning passion for promoting the talents and success stories of emerging entrepreneurs, Alice writes to help the small business owners of today build thriving enterprises. From expertise on how to better manage your business' cash-flow, to quick tips for boosting employee morale – connect with her on Twitter and LinkedIn to receive the latest news on all things business finance.